The Balearic Islands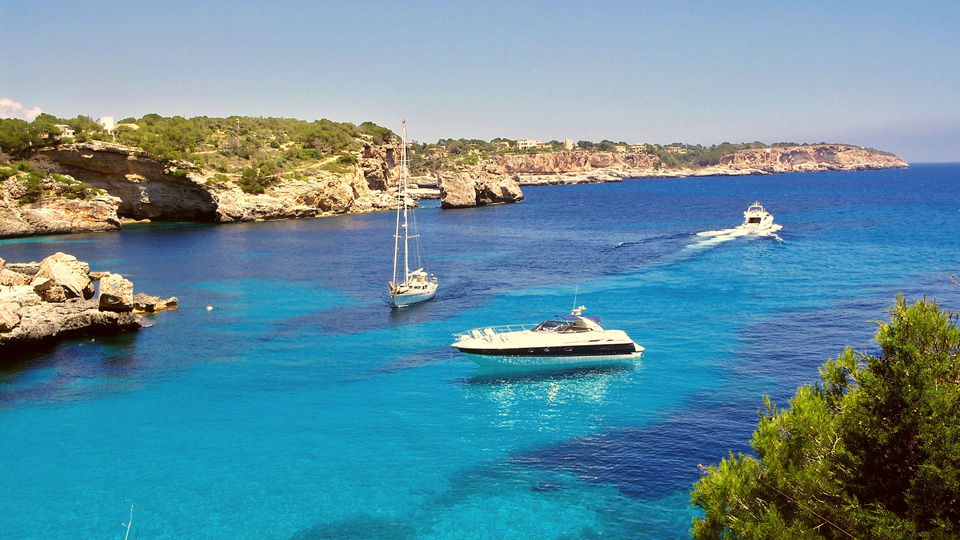 The Balearic Islands are located in the Mediterranean Sea, 60 miles off the east coast of mainland Spain. The three main islands are Ibiza, Mallorca and Menorca. There are also the three tiny and unspoilt islands of Formentera, to the south of Ibiza, Cabrera off the southern coast of Mallorca and Dragonera to the West.  The islands are a favourite holiday haunt of royalty, the seriously rich and famous and tourists from all over the world. Each has a different landscape and distinct character; between them, the Balearics offer something for everyone.
Mallorca
Mallorca has a 188-mile coastline with numerous beautiful beaches and many hidden secluded rocky bays that can only be accessed by boat. The dramatic coastline presents guests with a myriad of choices of resorts and bays to visit during your break. Our yachts are mainly berthed in and around the capital city Palma giving easy access to the Calvià region, which encompasses Illetas, Magaluf, Palma Nova and Santa Ponça to the west and Es Trenc and Alcúdia to the east. For those guests staying for longer, Cap de Formentor and Puerto Pollença in the north; and Cala Millor, Porto Cristo (home to the Dragon Caves) and Cala d'Or in the east are all possible. The marine national parks of Sa Dragonera and Cabrera provide dramatic alternatives.
Have a look at our Mallorca Excursion guide to see the best restaurants to eat at and the most spectacular places to visit.  Our Excursion Guide Mallorca.
Ibiza & Formentera
With hundreds of miles of unspoilt coastline and nearly 80 beaches to choose from, Ibiza is a perfect destination for the longer charters and those wanting to visit the 'party capital' of the Balearic Islands. The majority of Ibiza's beaches and bays are clustered around the eastern and southern coasts, with the western coast having the fewest beaches. Ibiza town, Bota Foch, Santa Eularia and San Antonio are the 4 largest marinas. Formentera is the smallest of the Balearic Islands, it is located just off the coast of Ibiza and is only 12 miles from tip to tip. Formentera's main attraction is its untouched and often deserted beaches and coastline that attract visitors seeking peace and tranquility.
Menorca
Mahon is the capital of Menorca and the Port of Mahon is one of the world's largest spectacular natural harbours. Menorca's fabulous coastline has a greater number of beaches than Ibiza, Mallorca and Formentera put together and is justifiably known as an island of beautiful beaches. Visiting Menorca is possible on the longer charters and perfect for those looking for quiet, unspoilt coves, isolated beaches and pristine inlets.